Retention period requirements for preservation of records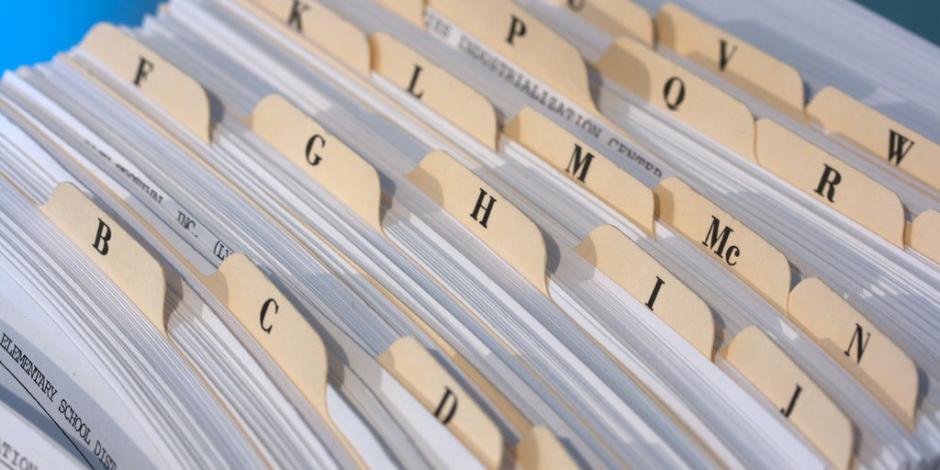 It's tax time, and you've recently noticed that old files have taken up what little filing space you have left. Can you throw some of them away?

Below is a summary of the record-retention requirements for sales and use tax, federal and state income tax, and federal and state employment tax.

Record-keeping policies must be guided by the rule of reason and the probability and dollar amount of risk involved, not by the statutes of limitations alone. Moreover, any external investigation by a law enforcement agency requires an employer to "freeze" all records that may in any way be associated with the investigation. The following are general guidelines that refer to the minimum record preservation times required by law.
State, County, and City Sales and Use Tax Records
Minimum Retention Period: Four Years
All records pertaining to transactions involving sales or use tax liability must be preserved for a period of no less than four years, unless the State Board of Equalization authorizes in writing destruction within a shorter period. In addition, if the State Board of Equalization is auditing you all records for the period being audited until the audit is completed or the case is resolved should be retained.

State tax regulations require that adequate records be kept showing the following:
gross receipts from sales of tangible personal property, such as alcoholic beverages, soft drinks, food, etc., whether the receipts are regarded as taxable or nontaxable;
all deductions allowed by law and claimed in filing returns;
total purchase price of all tangible personal property purchased for sale, consumption, or lease.
Records Must Include:
the normal books of account ordinarily maintained by the average prudent businessperson engaged in the activity in question (which can include information stored on computers);
all bills, receipts, invoices, cash register tapes or other documents of original entry supporting the entries in the books of account;
all schedules or working papers used in connection with the preparation of tax returns. Failure to maintain accurate records may be considered evidence of negligence or intent to evade the tax and may result in penalties
State tax regulations also provide additional record keeping stipulations for microfilm records and records that are prepared by automatic data processing systems.
Guest Checks and Cash Register Tapes
Minimum retention period: Four years

Although guest checks are usually examined on a test basis for sales tax audits — typically one week of each calendar quarter for a four-year period — tax experts advise keeping guest checks, as well as cash register tapes, for a full four-year period.
Federal and State Income Tax Records
Minimum Retention Period: Indefinite

The amount of time a taxpayer is required to keep books or records that support his or her income tax liability is somewhat vague, but should generally be based upon the applicable statute of limitations associated with that return.

Typically, the Internal Revenue Service has three years from the date a return is filed to assess that return and determine whether additional taxes are owed. However, if there has been a substantial omission of income, the assessment statute of limitations increases to six years. The limitations period further increases to seven years for a claim for a credit or refund relating to bad debts or losses on securities, and there is an indefinite limitations period for a fraudulent filing or if there is a complete failure to file any return. In addition to the assessment period, the IRS generally has 10 years to begin collection proceedings. To be on the safe side, if you file a tax return, you should keep all records that relate or support that tax return for at least seventeen years (extended seven year limitations period plus ten year collections period). If you do not file any tax return, then you should keep indefinitely all records that relate to your income for the year that you did not file.

For employers, the records that should be retained for each employee regarding income tax include the following: amounts of wages subject to withholding, agreements with employees to withhold additional tax, actual taxes withheld and dates withheld, reason for any difference between total tax payments and actual tax payments and withholding forms (W-4 and W4-E).

This list is not all-inclusive. If you have any documents that relate to income tax withholdings, you should retain those documents for the specified times listed above, or contact a tax attorney or accountant before destroying such documents.
Federal and State Employment Tax Records
Minimum Retention Period: Six Years

While federal law requires such records to be kept for a minimum of four years after the date the tax to which they relate becomes due or is paid, whichever is later, California law has a six-year statute of limitations period, so employers should keep such records for a minimum of six years.

The records to be preserved by employers include:
Federal Unemployment Tax Act (FUTA): These records must include basic employee information including name, address, social security number, gender, date of birth, occupation and job classification. Additionally, the records should indicate the total remuneration, including amounts withheld for any reason, paid to employees during this calendar year; the amount of such remuneration constituting wages subject to tax; the amount of contributions paid into each state unemployment fund; and the extent to which the employer is liable for the tax. If the total remuneration paid and the amount subject to the tax is not equal, the reason must be made a matter of record. In addition, the records must show the dates, in each calendar quarter, on which each employee performed services not in the course of the employer's trade or business and the amount of cash remuneration paid at any time or such services performed.
Federal Insurance Contributions Act (FICA): An employer must keep records that reflect the following information with respect to each employee: the name, address and account number of the employer; the total amount and date of each payment of remuneration and the period of services covered; daily and weekly hours; straight time and overtime hours and pay; annuity and pension payments; fringe benefits paid; tips; deductions and additions; the amount of each payment of remuneration that constitutes wages subject to tax; the amount of employee tax collected with respect to such payment, and, if collected at a time other than the time the payment was made, the date collected; if the total remuneration payment and the taxable amount of that payment are not equal, the reason; the details of each adjustment or settlement of taxes under the Act; and a copy of each statement furnished in explanation of any omission or error in a return or schedule required by regulation.
Social Security and Medicare Tax: An employer must keep all records for each employee that reflects the employee's name, address and social security number, the total amount of wages subject to tax, the amount of employee tax collected each pay period, explanation between total pay and taxable pay, details of adjustments or settlement of taxes, records of tips received by employees including statements of tips provided by employees and all employer filing records.
State Unemployment Taxes (SUI): California Unemployment Insurance Regulation 1085 requires that employers keep records for each employee showing:

the period covered by the payroll
for each employee: his or her name, Social Security Number, the date on which he or she was hired, rehired or returned to work after temporary layoff and the date when his or her name was removed from the payroll; the place of his or her work, which shall be shown in accordance with such forms and instructions as the department may approve
the wages paid to each employee for each payroll period, showing separately money, wages, cash value of all other remuneration received from the employer and special payments in cash or kind for services other than those rendered exclusively in given pay periods such as annual bonuses, prizes, etc., including the nature of such payments and the period during which the services were performed for which such special payments were made
other information as necessary to enable the employing unit to determine the employee's total wages in each week.
Federal Personnel Records
Fair Labor Standards Act and Equal Pay Act: Three Years, Two Years

Firms with sales of $500,000 or more, companies engaged in interstate commerce and public agency employees are subject to the provisions of the Fair Labor Standards Act. Those with 15 or more employees are subject to the provisions of the California Equal Pay Act of 1963.

The FLSA requires that the following records be kept for three years from the date of the last entry:
payroll records, including employee's name, home address, date of birth if younger than 19, gender and occupation, hours worked each weekday and workweek and straight-time earnings and overtime earnings
regular rate of pay and its calculation
inclusions and exclusions from wages, such as bonuses, withheld taxes, etc.
date of payment and the period covered
plans, trusts, and collective bargaining agreements
employee notices
sales and purchase records
employment contracts.
The FLSA requires that the following records listed below be kept for two years from the date of the last data entry: basic employment and earnings records, time cards and piecework records, wage rate tables, records of additions to or deductions from wages, unemployment compensation contributions and order, shipping and billing records, work schedules.

Federal regulations also contain record-keeping requirements applicable to special employee classifications, such as apprentices, learners and commission employees.

The Equal Pay Act states that employers shall maintain records or the wages and wage rates, job classifications, and other terms and conditions of employment for employees, and shall keep them on file for two years.
Age Discrimination in Employment Act of 1967: Three Years

The ADEA requires that employers of 20 or more workers keep for three years time cards, payroll and other records for each of their employees that contain the employee's name, address, date of birth, age, sex, occupation, rate of pay, hours worked each day and compensation earned each week, including straight-time earnings, weekly overtime earnings, deductions from or additions to wages, date of payment and the period covered by the payment.

Additionally, each employer is required to keep any employee benefit plan, such as pension and insurance plans, as well as any written seniority or merit system for the full period the plan or system is in effect and for at least one year after its termination.

The employer must also retain for at least one year all other personnel or employment records regarding hiring, promoting or discharging employees; job descriptions; occupational qualifications; collective bargaining agreements; insurance plans; hiring and promotion policies and practices; seniority and merit systems; job orders; job advertisements and internal job postings; job applications, such as test papers, physical examinations, advertisements; and other matters pertinent to determining whether an action, limitation or classification is based on a factor other than age.

Finally, under the Employee Retirement Income Security Act (ERISA), the employer is required to retain pension and welfare plan information for six years.


Civil Rights Act of 1964 (Title VII), Federal Discrimination Law: One Year

Employers of 15 or more workers are subject to the provisions of the Civil Rights Act of 1964 (Title VII) and are required to "make and keep such records relevant to the determination of whether unlawful employment practices have been or are being committed."

To comply with this general record retention requirement, any personnel or employment records, including forms submitted by applicants and other records having to do with hiring, promotion, demotion, transfer, layoff, or termination, as well as rates of pay or other terms of compensation, selection, job descriptions, retirement, pension and insurance plans, union agreements and contracts, seniority and merit system descriptions and training, should be retained.

When a person has filed a lawsuit against an employer, the employer is required to keep all relevant records regarding that individual that may either prove or disprove discrimination until the lawsuit has reached a final disposition.


Immigration Reform and Control Act of 1986: Three Years

Under the IRCA, all employers are required to keep completed I-9 forms on file for every employee hired after Nov. 6, 1986. These records must be retained for at least three years from the date of hire, or one year after termination, whichever is greater.

I-9 Forms and supporting documents should be kept in a location separate from the employee's personnel file and be made available for USCIS inspection within three days of a request for lawful inspection. You face civil penalties for violating these record-keeping requirements, ranging from $110 to $1,100 for each infraction.
Americans with Disabilities Act: One Year
Under the ADA, employers are required to keep job applications, resumes and other job inquiries sent to the employer; all payroll records, including individual employee wage records; and employee files, including disciplinary notices, promotions, demotions, discharge, training, tests, physicals, transfer, layoff and recall, job evaluations or any other personnel records for a period of one year after making the record or taking the action described (whichever occurs later). If a charge of discrimination is filed or the Equal Employment Opportunity Commission brings an action, an employer must save all personnel records related to the charge until it is resolved.
Family and Medical Leave Act: Three Years
The FMLA and the CFRA (California Family Rights Act) contain similar provisions as to which employers are covered:
FMLA: Private employers are covered by the FMLA if they have employed 50 or more employees within 75 miles of the workplace of the employee requesting FMLA leave for each working day during each of 20 or more calendar workweeks in the current or preceding calendar year.
CFRA: As with the FMLA, an employer who directly employs 50 or more persons to perform services for a salary or wage is covered under the CFRA. In accordance with the FMLA, the coverage threshold is reached under the CFRA if an employer has employed 50 or more employees for each working day during each of 20 or more calendar workweeks in the current or preceding year. Also in conformity with the FMLA, the employees can be located anywhere in the U.S. or any territory or possession of the U.S. This means that an employer with only one employee in California can be a covered employer! (But no employees would be eligible for leave unless all were employed within a 75–mile radius).
Unlike the FMLA, the CFRA has no specific recordkeeping provision. However, the general recordkeeping requirements under the Fair Employment and Housing Act (FEHA) apply, including the requirement that employment records be kept for a period of at least two years (see below for FEHA recordkeeping requirements).

According to the FMLA, all employers should keep the following records for at least three years:
name, address and occupation
rate of pay, terms of compensation, daily and weekly hours worked per pay period and additions to and deductions from wages and total compensation paid
dates of leave taken by eligible employees (the leave must be designated as FMLA leave)
for FMLA leave taken for less than one day, the hours of leave taken
copies of employee notices and documents describing employee benefits or policies and practices regarding paid and unpaid leave (copies may be kept in personnel file)
records of premium payments for employee benefits
records of any dispute regarding the designation of leave
any employee handbooks and/or policies on employee leaves and benefits
records and documents relating to medical certifications, re-certifications and medical histories of employees or their family members. Where the ADA applies, the records must be maintained in conformance with ADA confidentiality requirements.
Such documents must be maintained as confidential medical records (i.e., kept in files separate from the employer's ordinary personnel files).

Exceptions: The confidential medical records (above) may be disclosed to the following persons: Supervisors and managers regarding necessary restrictions on work and necessary accommodations:

First aid and safety personnel (e.g., where physical condition might require emergency medical treatment); and
Government officials who are investigating compliance with FMLA or other laws on request.
employee pay and benefits plan
records of employee disputes.
Occupational Safety and Health Act: Five Years to 30 Years
OSHA applies to any employer with at least 10 employees and requires an employer to keep a log of occupational deaths, injuries and illnesses (other than minor injuries requiring only first aid treatment) and a supplemental record of deaths, injuries and illnesses for at least five years. Additionally, an employer must maintain medical records and records of exposure to potentially toxic substances or harmful physical agents for each employee for at least 30 years after the employee has resigned or been terminated.

Employers in a specified low hazard retail, service, finance, insurance or real estate industry are generally exempt from maintaining OSHA injury and illness records. However, even otherwise exempt employers must maintain illness and injury records if requested to do so by OSHA or the Bureau of Labor Statistics. Moreover, workplace incidents resulting in a fatality or hospitalization of three or more employees must be reported to OSHA regardless of the size of the employer or number of persons employed.

Employers are required to maintain the following or equivalent forms:
"Log of Work–Related Injuries and Illnesses" (OSHA Form 300);
"Incident Report" for each recordable injury or illness (OSHA Form 301); and
annual summary of such injuries (OSHA Form 300–A).
OSHA also requires employers to post a complete summary of all injuries and illnesses each year.
State Personnel Records
Employers must maintain a copy of each employee's personnel records for at least three years after termination of employment, but since wage and hour violations contain a four-year statute of limitations, the employer should retain the employee's personnel records for at least four years after the employee leaves his employment.
Wages, Hours and Working Conditions: Four Years
Every employer shall keep accurate information with respect to each employee, including:
full name, home address, occupation and social security number
birth date, if under 18 years, and designation as a minor
time records showing when the employee begins and ends each work period. Meal periods, split-shift intervals and total daily hours worked must also be recorded. Meal periods during which operations cease and authorized rest periods need not be recorded.
total wages paid each payroll period, including value of board, lodging or other compensation actually furnished to the employee
total hours worked in the payroll period and applicable rates of pay. This information shall be readily available to the employee upon reasonable request.
qualified benefit plans, trust records, employee notices and sales and purchasing records
records of additions to or deductions from wages, unemployment compensation contributions and wage rate tables.
when a piece or incentive plan is in operation, piece rates or an explanation of the incentive plan formula must be provided to employees. An accurate production record shall be maintained by the employer.
All required records must be in English and in ink or other indelible form, properly dated, showing the month, day and year and should be kept on file by the employer for at least three years at the place of employment or at a central location within the state of California. An employee's records should be available for inspection by the employee upon reasonable request.
Fair Employment and Housing Act (Discrimination in Employment): Two Years

Employers of Five or More Workers Must Preserve any and all:
job applications, resumes and job inquiries sent to the employer
employment referral records and applicant identification records
all payroll records, including individual employee wage records, name, employee number, address, age, sex, occupation, time and day the work week begins, regular hourly rate, hours worked each day and total weekly hours
daily or weekly straight-time earnings, deductions or additions to wages, wages paid each pay period, date of payment and period covered by payment
employee wage records
employee personnel files
help-wanted ads
job descriptions
job opening notices for opportunities for training and promotion
records of overtime
retirement and pension plans
seniority and merit system descriptions.
In the event a complaint is filed against the employer, all records and files related to the action must be retained until the case is fully and finally concluded.
Discrimination in Employment on Basis of Sex: Two Years
Pursuant to California's Equal Pay Act, California Labor Code Section 1197.5(d), "every employer shall maintain records of the wages and wage rates, job classifications and other terms and conditions of employment of the persons employed by the employer. All of the records shall be kept on file for a period of two years."
Workers' Compensation Benefits: Two Years to Five Years
In California, employers should retain the following documents for work place injuries: date-stamped copy of claim forms, report of occupational injury or illness, letter of denial of benefits to employee, all reports to the Division of Workers' Compensation, records of benefits paid, estimate of future benefits, applications to the Workers' Compensation Appeals Board, Orders & Awards of Workers' Compensation Appeals Board, and all notices sent to the injured employee.

Employers should keep all of the above documents for at least five years after the date of injury, whether the claim is still active or closed. For all closed workers' compensation claims, the employer should keep the above documents for at least two years from the date the claim closed. For open claims, the employer should keep the listed records for five years from the date of injury or last date for benefit payment, whichever is later.

All claim files shall be maintained at least until the latest of the following dates:
five years from the date of injury
one year from the date compensation was last provided
all compensation due or which may be due has been paid
if an audit has been conducted within the time specified in (a)(1), until the findings of an audit of the file have become final.
Open and closed claim files may be maintained in whole or in part in an electronic or other non-paper storage medium.
Healthy Workplaces Healthy Families Act of 2014: Three Years
The Healthy Workplaces, Healthy Families Act of 2014 is California's new sick leave law that took effect January 1, 2015. The law makes any employee who works in California for 30 or more days on or after January 1, 2015 eligible for paid sick leave. An employer must keep records documenting the hours worked and paid sick days accrued and used by an employee for at least three years. Employers must also allow the Labor Commissioner access to these records. If an employer does not maintain adequate records pursuant to this act it will be presumed that the employee is entitled to the maximum number of hours accruable under this article, unless the employer can show otherwise by clear and convincing evidence.
Ban the Box: Three Years
This law, which went into effect on January 22, 2017 in both Los Angeles and San Francisco, prohibits employers from inquiring into criminal backgrounds of applicants until after a conditional offer of employment is made. Employers cannot conduct any "direct or indirect" activity to gather criminal history from or about any applicant using any form of communication, including on application forms, interviews or Criminal History Reports. Employers must retain job applications and related information for three years.
Permanent Records
It is advisable for employers to permanently retain the following records:
employment applications
job offer letters
records of pay changes since date of hire
benefits or beneficiary designation or changes
benefit request forms
performance evaluations
policy receipts with employee's signature
all employee training logs
leaves of absence taken
notice of union membership and dues deduction
education records
termination records and reasons therefor
exit interviews
awards to employees.
The following documents should be kept for at least five years:
records complimenting an employee's performance
disciplinary action
requests for transfer
records of leave of absence taken.
The following records should also be kept:
records regarding property issued to an employee (for the duration of the employment)
verification of an employee's references (three years)
verification of employment provided to subsequent prospective employers (three years following termination)
wage attachments/garnishment notices (six years)
notices of union membership, dues check-off (four years).
Summary
The records and documents discussed under the relevant laws are not intended to be an all-inclusive list of documents an employer should keep. If there are documents not listed here that may be relevant to an employee, the employer should retain those documents as necessary. Additionally, the wages, taxes, medical leave, etc. laws discussed above require that an employer keep identical documents for different time periods. Therefore, remember that even though one law may only require you to retain a document for one year, another law may require you to keep that same document for four years. The CRA advises employers to seek the assistance of legal counsel or an accountant before destroying any employee documents. The following is a summary of the record retention requirements:
​Government contractors are subject to additional record keeping requirements not covered in this Industry Insight. When record-keeping requirements overlap, the longest requirement prevails. Because most retention periods are four years or less, and because the longest statute of limitations in California is generally four years, employers may be advised to retain all records at least that long.

This report was reviewed and updated in 2018 by the Zaller Law Group, PC. Zaller Law Group, PC provides this information for general informational purposes only. The information is not, and should not be relied upon or regarded as, legal advice. No one should act or refrain from acting on the basis of such content or information, without first consulting with and engaging a qualified, licensed attorney, authorized to practice law in such person's particular jurisdiction, concerning the particular facts and circumstances of the matter at issue.